(Education is not preparation of Life, education is life itself. - John Dewey)
We affirm that education begins at birth and continues through life. Our complete focus is to provide a support center to our children so that they continue learning and developing towards becoming whole and healthy individuals. We firmly believe that a child acquire skills and knowledge easily if we can make the surrounding stimulating and purposeful.
We value the work and efforts of every child that in return help him / her to move steadily and confidently out the path of self employment and grow up to be sensitive and responsible citizen of our country.
Our school is constantly scaling new heights with excellent professionals to train our children in a range of co-curriculum activities so that they evolve as excellent individuals who have honed their skills in the microcosm of the school and are equipped to lead and inspire in the microcosm of the world.
The school is striving hard to make the best possible efforts to inculcate strong value combining with academics and extracurricular activities in the children. Converting every individual into a self-reliant and independent citizen, the school-provides an amalgam of scholastic and co-scholastic activities.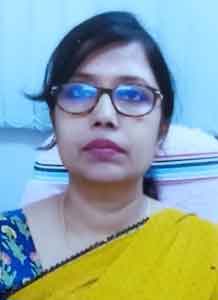 SMT. SHAMPA BANERJEE
Principal
The parents are the most strengthening power in moulding the future of children. Their consistent support empowers us to do more and more. I pay my gratitude to them for their faith in us.
I am confident enough that the DMPeans will make themselves stronger day by day, adding a new leaf to the grandeur of the school.
"Education is a shared commitment between dedicated teachers, motivated students and enthusiastic parents with high expectation".